A little old lady walked into a department store one day. She was surprised when a band began to play; an executive pinned an orchid on her dress and handed her a crisp $100 bill. She was the store's millionth customer. Television cameras focused on her and reporters began interviewing her. "Tell me," one asked, "just what did you come here for today?"
The lady hesitated for a minute and then sheepishly answered, "I was on my way to the Complaint Department." How embarrassing!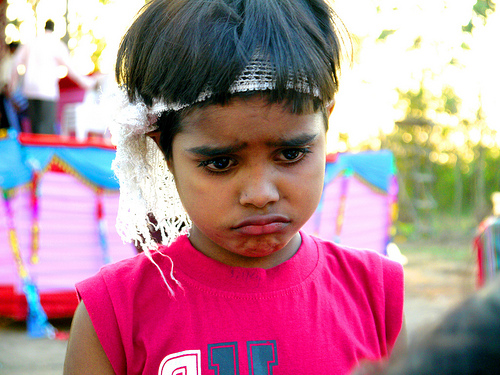 Photo by valeuf
We all know how easy it is to grumble. It is equally obvious that grumbling is not attractive. Your life either glows with the joy of the Gospel or it grumbles to the world around you.
"Do all things without murmurings and disputings: That ye may be blameless and harmless, the sons of God, without rebuke, in the midst of a crooked and perverse nation, among whom ye shine as lights in the world; Holding forth the word of life; that I may rejoice in the day of Christ, that I have not run in vain, neither laboured in vain." – Philippians 2:14-16
Here's two helpful reminders to finally stop grumbling from Philippians 2:14-16.
Remember Grumbling Dishonors the Lord
Paul indicates we are the "sons of God" (vs. 15). Every believer is to live in a way that honors their Father. What we do reflects on our Father. When we complain and grumble, we are telling those around us that we believe God is not doing a good job. Complaining indicates we think we could do much better if given the opportunity.
Children of God are not be fault-finders and gripers. We are to be without the blemish of complaining. We want our peers to know that our Heavenly Father is a good, loving, and caring God.
Remember Grumbling Diminishes Your Light
The world around us is in spiritual darkness. Sin has distorted reality (vs. 15b). Amidst the grumblers, Christians are to stand out as beacons of light. If you don't complain, but do your work cheerfully as unto the Lord (Colossians 3:23). You will stick out! Working without complaint is a prime way to show your faith!
Believers marked by gratitude instead of grumbling make a difference. It also provides a better opportunity to share the gospel with those around us. Paul's time in the Philippian jail demonstrates this. At midnight he sang to God (instead of grumbling), then later he proclaimed the gospel to the jailer.
Next Step: Listen to the sermon "I will serve God wholeheartedly" and ask God to help you work and witness with joy.